Saint Patrick's Day French Toast Recipe
Posted by BHARAT GUNANI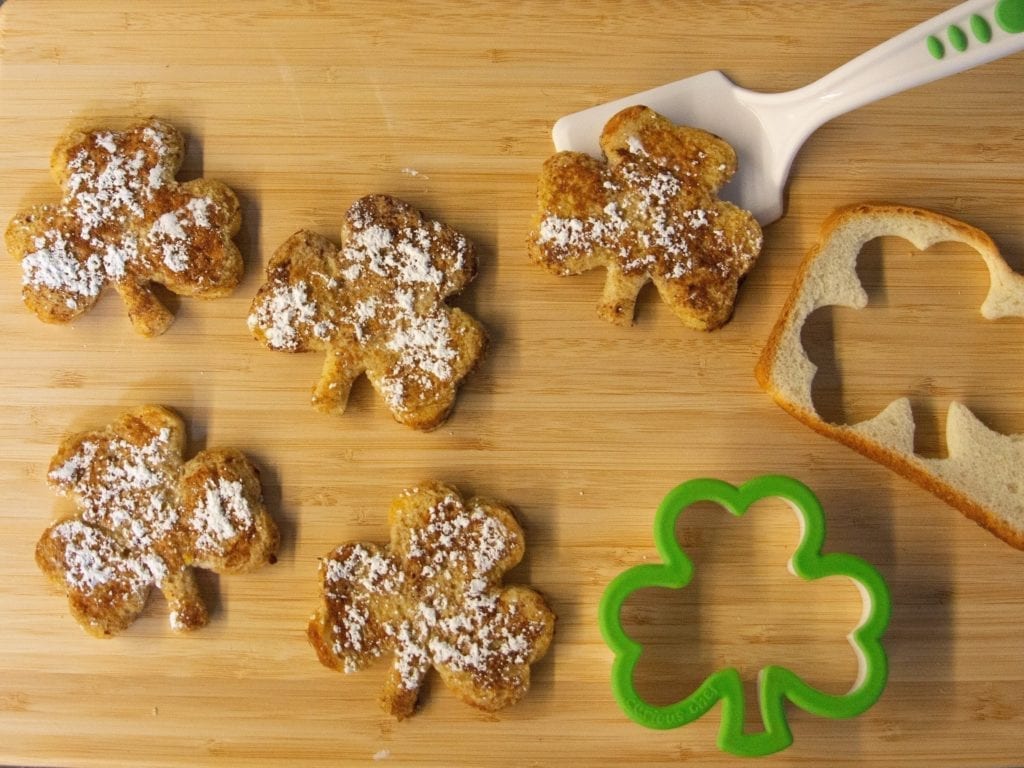 What's the best way to kick off your Saint Patrick's Day? Making a tasty breakfast, of course! This Saint Patrick's Day French Toast recipe is so simple, your budding chef can prepare it all on their own. Get your shamrocks ready - because this breakfast is fit for a leprechaun!
Servings: 2-4
Prep Time: 20 minutes
Ready to Eat: 20 minutes
Get Ready!
Ingredients
sliced bread (4 slices)*
eggs (3)
milk or cream (¼ cup)
butter (2 T)
powdered sugar (2 T)
sugar (1 T)
cinnamon (1 tsp)
vanilla extract (¼ tsp)
syrup (for dipping)
*Make sure to buy a loaf of bread that is bigger than the shamrock cookie cutter.
Utensils
pancake griddle
powdered sugar sifter
wooden skewers (4)
Get Set!
1. Crack 3 eggs into the yellow mixing bowl. Whisk the eggs until they are thoroughly combined.
2. Measure ¼ cup milk or cream, and add it to the eggs.
3. Measure and add to the eggs: 1 tablespoon sugar, 1 teaspoon cinnamon, and ¼ teaspoon vanilla extract.
4. Whisk the egg mixture again until all ingredients are thoroughly combined.
5. Use the shamrock cookie cutter to cut out shamrocks from 4 slices of bread. Insert a wooden skewer into the center of each shamrock cutout.
Get Cooking!
1. Preheat the skillet or griddle over medium heat for about 5 minutes. When the pan is hot, add 1 tablespoon butter.
2. One at a time, soak both sides of the bread cut-outs in the egg mixture by tilting the bowl slightly.
3. Place the bread slices in the pan and cook for 3-4 minutes or until it turns golden brown. Flip the bread over, and cook the other side until it turns golden brown. Remove to a serving plate.
4. Use the powdered sugar sifter to apply a light dusting of powdered sugar to the french toast pops.
5. Pour some maple syrup in a bowl for dipping, dig in and enjoy!