Halloween Cupcake Recipe
Posted by BHARAT GUNANI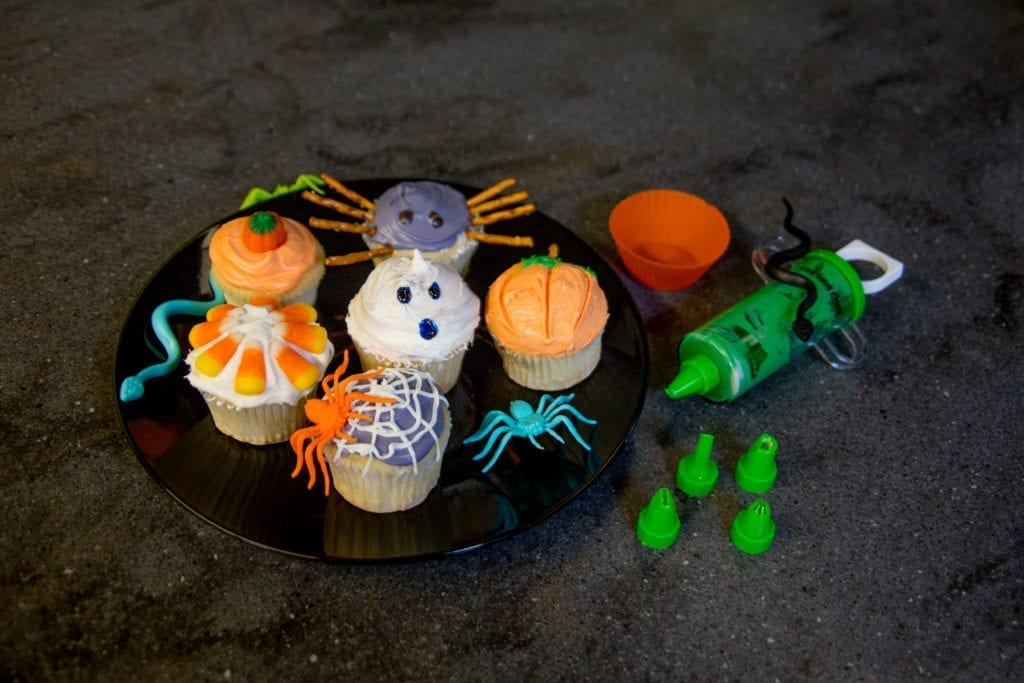 Looking for treats instead of tricks this Halloween? You and your little ghouls will love our scary good Vanilla Halloween Cupcake Recipe! Get creative and decorate them however you want…or recreate some of our spooktacular Curious Chef creations!
You can find this recipe and many more in the Cooking with Curious Chef cookbook.
Makes: 6 cupcakes
Prep Time: 20 minutes
Ready to Eat: 1 hour
Get Ready!
Ingredients
2 cups powdered sugar
3/4 cups flour
6 T butter, melted
4 oz cream cheese
1 egg
1/3 cup granulated sugar
1/4 cup butter, softened
1/4 cup milk
2 tsp cream (half-n-half)
2 tsp vanilla extract
1 tsp baking powder
1/8 tsp salt
food coloring
Utensils
Get Set!
Pre-heat oven to 350 degrees
Whisk the flour, baking powder and salt in the orange mixing bowl.
In the green mixing bowl, whisk the egg and granulated sugar until light and foamy. Then whisk in the melted butter, milk and 1 tsp vanilla extract.
Gradually fold in the flour mixture.
Place the cupcake liners in the cupcake tin.
Fill the cupcake liners about ¾-full of batter.
Get Cooking!
Bake cupcakes for 18-20 minutes or until they turn light golden brown. Test for doneness by inserting a toothpick in the middle of a cupcake. Cool on wire rack.
Combine the cream cheese, softened butter, cream, and 1 teaspoon vanilla in the orange mixing bowl and beat with your poly spoon until smooth and fluffy. Gradually beat in the powdered sugar until smooth and spreadable. Add a few drops of food coloring and stir until it is evenly distributed.
When the cupcakes are completely cooled, frost using the decorating set.