Gingerbread Cookie Recipe for Kids
Posted by BHARAT GUNANI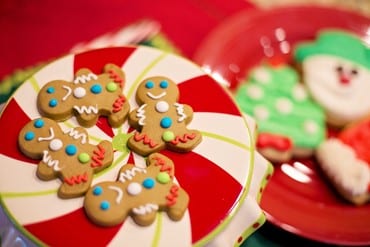 Gingerbread cookies are a staple in many people's annual holiday cookie baking. These warm, soft, and spice filled cookies are easy to make and even more fun to decorate! Our easy gingerbread cookie recipe for kids will give them a chance to work with a few ingredients that may be new to them, practice their direction following, and overall baking skills. See the full recipe and directions below.
Ingredients
3/4 cup butter, softened
1 cup packed brown sugar
1 large egg, room temperature
3/4 cup molasses
4 cups all-purpose flour
2 teaspoons ground ginger
1 ½ teaspoons baking soda
1 ½ teaspoon ground cinnamon
3/4 teaspoon ground cloves
1/4 teaspoon salt
Optional: vanilla frosting of your choice
Directions
In a large bowl, cream the butter and brown sugar for 5-7 minutes until light and fluffy. Add the egg and molasses.
In a smaller bowl, combine the flour, ginger, baking soda, cinnamon, cloves, and salt. Gradually add this to your creamed mixture and mix until combined.
Cover the dough and refrigerate for at least 2 hours or even overnight. 
Preheat the oven to 350°
Lightly sprinkle your surface with flour. Roll out the dough until about 1/8 – in thickness.
Stamp cookie cutters and place 1 in. apart on ungreased baking sheets.
Bake for about 8-10 minutes until edges are firm.
Tips
Gingerbread cookie dough can be notoriously sticky so make sure to give it the proper time to rest in the refrigerator.
Try rolling out your dough on parchment paper if it is too sticky.
Need some new baking tools for your gingerbread cookie baking day? Browse our baking tools here
Made this recipe? Comment your thoughts below!